SiO2 embedding cement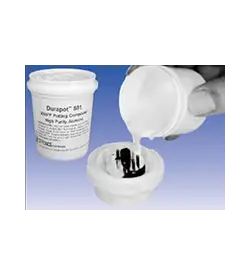 Durapot® 821 is a Cotronics® ceramics are high temperature, high resistance encapsulating and embedding cements that can be used for applications up to 1850°C.
Durapot® 821 is a Quartz based, fast curing adhesive and potting compound. The perfect material for bonding and potting Quartz Lamps, Glassware, Fibre Cables or any low expansion material. It is easy to use and allows fast cures when required. Ideal for use in production applications.
Technical data
Composition

Units

Durapot® 821

Base

 

Quartz

Grain size

(min-max)

µm

≤45 - 150

Max Temperature

°C

1370

Resistivity

Ohm.cm

108

Dielectric

Strength

kV/mm

4.9

Thermal Expansion

10-6/K

0.5

Thermal Conductivity

W/m.K

0.72

Pot Life

min

20

Components

 

2

Mix Ratio

base/activator

 

100/44

Cure Cycle Time

Hrs @

Room Temp.

24

Cure Cycle Time

°C

5-15min @ 95°C