Castable cement SiO2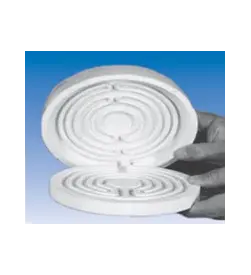 Rescor® Castable Ceramics are available in 6 refractory compositions offering the ultimate selection of ceramics to the materials engineer. Now, an unlimited number of high-temperature applications, requiring custom ceramic shapes, can be easily solved. Just mix the ceramic powders with their liquid activators and pour into any non-absorbent moulds.
Rescor® Castable Ceramics harden overnight to produce highly detailed ceramics, usable to 4000 °C. They offer excellent resistance to high temperature, thermal shock, molten metals, oxidizing and reducing atmospheres, erosion, most acids and alkalise.
Rescor® 750 easily cast 2000-pound moulds measuring 6 feet in length to be used for forming and curing composite materials.
Technical data
Composition

Units

Rescor® 750

Base

 

SiO2

Grain size

(min-max)

µm

≤45 - 600

Density

g/cm3

1.76

Max Temperature

°C

1480

Shrinkage (after curing at room temperature)

%

~0

Shrinkage (540°C)

%

1.3

Compressive Strength

N/cm2

4130

Breaking Strength (900°C)

N/cm2

1030

Thermal Conductivity

W/m.K

0.58

Expansibility

10-6.K-1

0.5

Breakdown

kV/mm

3.9

Mix (weight) Base

 

100

Catalyser

 

28
Cotronics Rescor® 740 is a  ceramic moulding cement for high temperature applications. It is a lightweight, low density but very strong insulating foam.  It is an  alumina silicate based cement that is resistant up to 1260°C and can be diluted with water. It is available in 3.7 and 18.5 litre packs.  For larger sizes, please contact us.
Full description