SIZAL®CELL Composite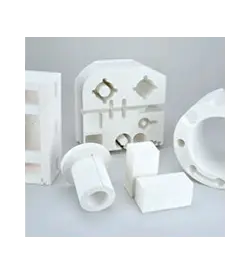 Overview: SIZAL®CELL Composite
Our SIZAL®CELL and SIZAL®BOARD range are a complete line of thermal insulators that open the way to many industrial or laboratory applications up to temperatures of 1,650 °C. The mechanical and thermal performance of SIZAL® products guarantee substantial savings in terms of energy and costs.
SIZAL®CELL is a range of non-fibrous insulation products manufactured from alumina microspheres. Ultra-light, SIZAL®CELL is designed for high-temperature applications up to 1,650 °C. The main component of the insulation is a microsphere made from alumina. An exclusive and innovative process allows the industrial production of this unique element. The internal structure of the cell is a honeycomb-like thread that ensures the mechanical quality of the insulation, whatever the temperature of use. A specific binder means the assembly is homogeneous - this particular construction is light and porous and, consequently, insulating and mechanically efficient. 
Pre-calcination
All SIZAL®CELL products can be delivered pre-calcined. Cooking parts at more than 350 °C eliminates all traces of organic binders that may be present in the materials. This operation avoids gas emissions and potential pollution during more sensitive applications.
Applications of SIZAL®CELL
Insulation panels for industrial or laboratory installations

Furnace linings (electric and gas)

Furnace, burner or turbine components.

Mechanical parts, part supports, and more.

Repairs
Main Characteristics of SIZAL®CELL
Guaranteed use up to 1,650 °C

Density up to 700 kg/m3

Low thermal conductivity

Low shrinkage

Easy to set up (homogeneous structure)

Very light, dust-free

Effective in all atmospheres

Excellent thermal shock resistance

No carcinogenic classification
Available Formats
Boards or semi-boards

Customised cuts
Product

Type

Standard Dimensions

Max. Dimensions*

1260-380
1430-380
1540-380
1650-420
1705-420

Board

900x600x50 mm

650x480x70 mm
960x650x50 mm

1750-700

600x400x25 mm
560x360x100 mm

-

Customized designs are available on request.

*Min. order required
Implementation of SIZAL®CELL
Insulation Panels
SIZAL® is a high-end insulation solution for the thermal management of your industrial installations or laboratories.
Customised Parts
Our machining centres are equipped with suction systems, specific cutting tools, and fastening systems for more fragile parts in order to guarantee the best possible quality.
SIZAL® products have good machinability thanks to their homogeneous structure. However, the minimum tolerance values are ±0.5 mm because of the porosities size.
Furnace Linings and Components
The quality of SIZAL® products is compatible with the construction and renovation of gas and electric furnaces. The use of this material permits greater compactness, with a resulting improvement in efficiency and energy saving.
Mechanical strength tests executed in electric furnaces of various designs, under both reducing and oxidizing atmospheres, have confirmed the exceptional resistance of SIZAL®CELL, particularly in response to high-amplitude hot and cold cycles, from 100 to 800 °C in less than an hour.
Repairs
In the event of problems, our team can propose appropriate solutions for the improvement of the service life of your existing components. If an element is beyond repair, tailor-made reproduction is possible, with rapid delivery.
Certain claddings, refractory cements and adhesive compounds can also improve the performance of components.
SIZAL®CELL permits the advantageous replacement of conventional refractory materials, refractory cement or fibrous insulation bricks, silica-alumina, etc.
Technical Data of SIZAL®CELL
The technical data table for the available SIZAL®CELL Composite can be downloaded in the data sheet.
Physical variables included in this documentation are provided by way of indication only and do not, under any circumstances, constitute a contractual undertaking. Please contact our technical service if you require any additional information.