Silico-aluminous fibers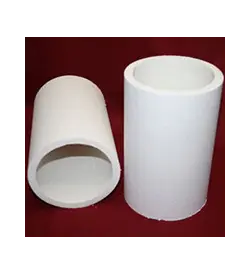 Products based on silico-aluminous fibers have different thermal, physical and mechanical properties depending on the amount of silica SiO2 and alumina Al2O3 they contain.
Al2O3 alumina percentage improves resistance to high temperatures.
Applications of silico-aluminous Fibers
Metallurgy
Insulation of industrial ovens
Insulation of electric ovens
Insulation of chimneys
Seals
Industrial insulation
Making thermal protections
High temperature fibrous insulation
Caramic Board 1200°C
Rescor® 360 ceramic boards offers excellent thermal shock resistance. It can be heated to 1100ºC and cooled in minutes, without cracking.
Mouldable Sheet 1200°C
Wrap-It mouldable sheets combine Cotronics®' high purity, refractory fibers with proprietary, inorganic binders in a new and economical wet felt form.
Panneau isolant 1500°C
Sizal® Board is a range of rigid high-temperature insulation composed of polycrystalline alumina wool (PCW) fibres. Thanks to its structure, this product has excellent resistance to ruptures and/or cracking during rapid temperature rises.

Final Advanced Materials provides a range of ceramic board Cotronics for applications up to 1250°C
Full description
372 Wrap-It mouldable felt combine Cotronics high purity, refractory fibres with proprietary, inorganic binders in a new and economical wet felt form. These felts can withstand up to 1260°C. They have excellent thermal shock resistance.
Full description

The mechanical and thermal performance of SIZAL®BOARD composite guarantee substantial savings in terms of energy and costs. The quality of SIZAL® products is compatible with the construction and renovation of gas and electric furnaces.
Full description