Adhesive selector kit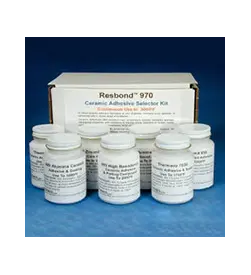 Seven high temperature adhesives in convenient 4 oz. bottles. Ideal for simplifying products evaluation and selection.
Selector kit 970N : 901 - 907GF - 919 - 989 - 940 - 950 - 7030
Cotronics® Resbond® Ceramic Adhesives are based on high purity, ceramic binders and selected reinforcing fillers. They were designed to satisfy the most difficult, high temp. application requirements. These adhesives have excellent adhesion to ceramics, metals, glass and plastics and offer excellent high temp. stability, dielectric strength,mechanical properties and thermal shock resistance.
They are resistant to molten metals, oxidizing and reducing atmospheres, most chemicals and solvents.
Just mix and cure at room temp. No objectionable odors, VOCs' or outgassing.
Resbond® adhesives are available in a wide range of temperature capabilities, viscosities, strengths, expansion rates, conductivities, and dielectric strengths. They are the ideal choice for research, electronics, metallurgical, nuclear and industrial applications. They are easily cured at room temperature without objectionable odors, VOCs' or outgassing.