High temperature adhesive application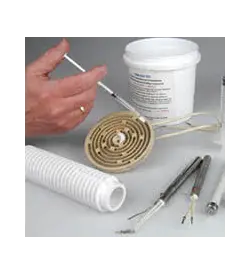 Final Advanced Materials can provide you high temperature adhesives for application from 200°C up to more than 2000°C : ceramic adhesive, epoxy adhesive, bismaleimide film.
High temperature adhesive presentation
In order to choose the right adhesive for your application in our range of products, first of all you need to have :
Max and continuous temperature
Mechanical stress
Electrical characteristics
Product to bond
Epoxy adhesive up to 350°C
We offer Duralco® Cotronics® high temperature epoxy-based adhesives, for temperatures up to 350°C.
Special versions of these adhesives with special characteristics are available: non-magnetic, sterilizable, adaptable hardness ...
Ceramic adhesive over 2000°C
We offer Resbond® Cotronics® high temperature ceramic adhesives, for temperatures up to 2200°C.
These adhesives have excellent adhesion to ceramics, metals, glass and plastics. They offer excellent high temperature stability, dielectric strength, mechanical properties and thermal shock resistance.
Bismaleimid film up to 240°C
307 is a solvent-free, hot-curing adhesive film with high temperature and media resistance. At room temperature it is not tacky and can be easily cut to the shape of the bond area. Tackiness is developed at ca. 120°C, just before curing.