Electrically Conductive adhesive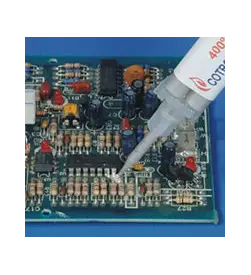 Cotronics® Duralco® conductive adhesives and potting compounds provide the conductivity required for many high temperature electronic and industrial applications.
High temperature electrically conductive epoxy resin
Duralco® 120 : Silver, high conductivity.
Duralco® 122 : Nickel, low cost.
Duralco® 124 : Silver, high temperature.
Duralco® 125 : Silver, flexible.
Duralco® 126 : Silver, one component.
Duralco® 127 : Graphite, low cost.