High Temperatur Nomex® Aramid Threads 220°C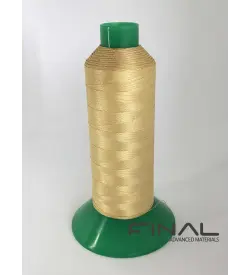 Nomex® Aramid Sewing Thread, up to 220 °C 
The word 'aramid' is a contraction of 'aromatic polyamide'. The chemical name is para phenylene terephthalamide or PPD-T. Created in the 1960's, aramid fibres consist of yellow filaments of about ten microns in diameter, assembled into threads. 
Nomex® threads are particularly suitable due to their thermal protection, thanks to their self-extinguishing properties and a continuous application temperature of 220 °C. Beyond this, the mechanical and dimensional characteristics decrease (slow carbonisation). A highly technical thread, they are used for particularly targeted purposes.
The threads with the most beneficial properties are those containing continuous filaments. Their resistance to rupture and abrasion is far superior to other types of thread.
Applications of Nomex® Aramid Thread
 

Heat and flame resistant clothing, textiles and stitching

Safety shoes

Protective gloves

Aircraft seats

Airbags
Technical Data of Nomex® Aramid Thread
Property

Unit

Continuous Filaments

Item N°

060-0110

060-0120

060-0130

060-0140

Titel

 tex

140

95

70

45

Rupture Force  (ISO 2062)

N

63.3

41.7

31.7

20.7

Elongation at Break (ISO 2062)

%

36

36

37

34

Packaging

Kingspool

147 g

1,000 m

Kingspool

146 g

1,500 m

Kingspool

144 g

2,000 m

Kingspool

148 g

3,000 m

Needle Size

Nm

120-140

120-130

120-130

120-120
Property

Unit

Discoutinuous Filaments

Item N°

060-0170

060-0180

Titel

 tex

40

25

Rupture Force  (ISO 2062)

N

13.4

7.47

Elongation at Break (ISO 2062)

%

27

23

Packaging

Box 10 cops

462 g

1,000 m

Cone126 g

5,000 m
A version with mixed filament is available on request.
Storage of Nomex® Aramid Thread
Aramid threads should be stored away from UV rays in dark packaging. Over exposure to UV rays causes yellowing and a decrease in tensile strength.
Physical variables included in this documentation are provided by way of indication only and do not, under any circumstances, constitute a contractual undertaking. Please contact our technical service if you require any additional information.
Final Advanced Materials has a wide range of aramid products available: threads, tapes, fabrics, etc. Nomex® meta-aramid threads , known for their excellent thermal and chemical characteristics, are particularly suitable for the production of thermal protection. They can withstand continuous temperatures of up to 220 °C.
Full description