Zetex®Plus Fibre Fabric 1,095°C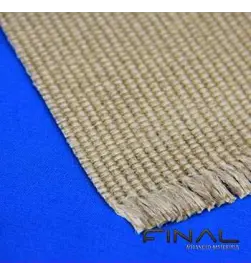 ZetexPlus® Fiberglass Fabrics by Newtex, up to 1,095 °C
Our partner Newtex offers a wide range of fire resistant and temperature resistant products since 1978. The ZetexPlus® range presents a great variety of heat resistant textiles which can withstand temperatures up to 1,095 °C. Due to their characteristics and performances, these products are ideal for fire protection.
ZetexPlus® fabrics are mainly used for thermal insulation and sealing of industrial furnaces but also as seals, heat reflectors, curtains, blankets and protective clothing.
ZetexPlus® vermiculite coated fiberglass fabrics are woven from highly texturized continuous filament fiberglass yarn and treated with a proprietary vermiculite coating. These materials are inorganic and safe to use. The vermiculite coating boosts its resistance to high temperatures and abrasion. ZetexPlus® fabrics can withstand constant operating temperatures up to 815 °C and peak temperatures up to 1,095 °C.
ZetexPlus® fabrics are also characterized by their excellent resistance to cold (–73 °C) as well as their good dielectric, chemical and mechanical resistance, which surpasses that of steel with the same diameter.
Applications of ZetexPlus®
 

Fabrics
Seal

Heat reflectors

Curtains

Blankets

Protective clothing
Technical Data of ZetexPlus®
 

Fabrics
Property

Unit

Item

A-300

A-400

A-600

A-800

A-1000

A-1200

Area Density

g/m2

305

441

610

814

1 017

1 119

Width

mm

1,520

1,520

1,020

1,520

1,020

1,520

1,020

1,020

1,520

Thickness

mm

0.58

0.71

0.76

1.09

1.40

1.55

Length

m

45

45

45

45

45

45

Max. Operating Temperature

°C

815

815

815

815

815

815

Max. Peak Temperature

°C

1,095

1,095

1,095

1,095

1,095

1,095
Other dimension available on request.
Physical variables included in this documentation are provided by way of indication only and do not, under any circumstances, constitute a contractual undertaking. Please contact our technical service if you require any additional information.
Zetex Mitts Newtex Mitts are made from aramid, Zetex ,  ZetexPlus and Z-Flex fabrics that can resist to temperatures up to 1,095 °C. They also provide an outstanding comfort, insulation and wear resistance. Those articles are double stitched and reinforced for durability. Don't hesitate to contact us for references that are not available in the website.
Full description
Final Advanced Materials has a wide range of aramid products available: threads, tapes, fabrics, etc. Nomex® meta-aramid threads , known for their excellent thermal and chemical characteristics, are particularly suitable for the production of thermal protection. They can withstand continuous temperatures of up to 220 °C.
Full description