Zetex®Plus Fibre Fabric 1,095°C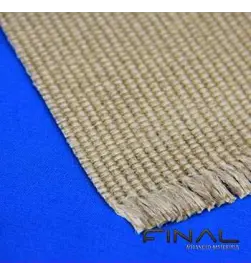 ZetexPlus® Fiberglass Fabrics by Newtex, up to 1,095 °C
Our partner Newtex offers a wide range of fire resistant and temperature resistant products since 1978. The ZetexPlus® range presents a great variety of heat resistant textiles which can withstand temperatures up to 1,095 °C. Due to their characteristics and performances, these products are ideal for fire protection.
ZetexPlus® fabrics are mainly used for thermal insulation and sealing of industrial furnaces but also as seals, heat reflectors, curtains, blankets and protective clothing.
ZetexPlus® vermiculite coated fiberglass fabrics are woven from highly texturized continuous filament fiberglass yarn and treated with a proprietary vermiculite coating. These materials are inorganic and safe to use. The vermiculite coating boosts its resistance to high temperatures and abrasion. ZetexPlus® fabrics can withstand constant operating temperatures up to 815 °C and peak temperatures up to 1,095 °C.
ZetexPlus® fabrics are also characterized by their excellent resistance to cold (–73 °C) as well as their good dielectric, chemical and mechanical resistance, which surpasses that of steel with the same diameter.
Applications of ZetexPlus®
 

Fabrics
Seal

Heat reflectors

Curtains

Blankets

Protective clothing
Technical Data of ZetexPlus®
 

Fabrics
Property

Unit

Item

A-300

A-600

A-800

A-1000

A-1200

Area Density

g/m2

305

610

814

1 017

1 119

Width

mm

1,524

1,020

/ 1,524

1,020

/ 1,524

1,020

1,520

Thickness

mm

0.58

0.76

1.09

1.40

1.55

Length

m

45

45

45

45

45

Max. Operating Temperature

°C

815

815

815

815

815

Max. Peak Temperature

°C

1,095

1,095

1,095

1,095

1,095
Other dimension available on request.
Physical variables included in this documentation are provided by way of indication only and do not, under any circumstances, constitute a contractual undertaking. Please contact our technical service if you require any additional information.