E-Glass Fibre Sewing Thread 700°C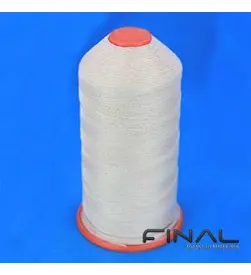 E-Glass Fibre Threads, up to 700 °C
As early as 1930, the first large-scale industrial application of E-glass fibre was the insulation of electrical conductors subjected to high temperatures. E-glass thread is the most used, whether in the textile industry or for composites, its share reaching 90 % of reinforcements. A high-end fibre, it is characterised by its resistance to continuous high temperatures of up to 550 °C and its excellent electrical insulation properties. E-glass fibre is rot-proof, can withstand the main chemical agents and remains dimensionally stable, even under intense variations of humidity and temperature. 
The flexibility of E-glass fibre permits the design of high-strength sewing yarns for the production of thermal protection systems or thermal, dielectric or chemical insulation solutions. Glass fibre sewing yarns are impregnated with PTFE, in order to simplify production. This coating deteriorates at high temperatures, leaving the glass fibre strands exposed.
Applications of E-Glass Threads
Manufacturing

Webbing

Weaving
Technical Data of E-Glass Threads
Property

Unit

Item N°

174-0001

174-0002

174-0003

Coating

with PTFE

Titel

tex

280

240

140

Titel (with coating)

tex

340

260

170

Thread Diameter

mm

0.5

0.4

0.3

Reel Length

m

1,250

1,500

2,900

Reel / Weigth

g

500

500

500

Tensile Strength

N

> 130

> 100

> 65

Max. Operating Temperature

°C

550

550

550

Max. Peak Temperature

°C

700

700

700
Physical variables included in this documentation are provided by way of indication only and do not, under any circumstances, constitute a contractual undertaking. Please contact our technical service if you require any additional information.