Boron Nitride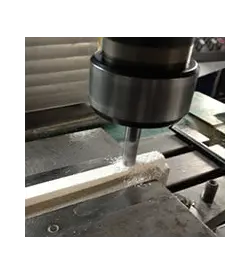 Machinable Ceramic: Boron Nitrid
Boron nitride is an advanced synthetic ceramic material available as a powder, solid, liquid or aerosol. It has exceptional temperature resistance, dielectric strength, and thermal conductivity. Thanks to these various properties, boron nitride is an easily machinable material. Boron nitride is comparable to graphite, in terms of its lubricating properties and good thermal conductivity, but is a white material, with very good electrical insulating properties.
Manufacturing
To obtain sintered boron nitride, the boron nitride powder is pressed at a very high temperature. The following two methods used are:
uniaxial hot pressing (HP)
hot isostatic pressing (HIP)
In its solid form, boron nitride can easily be machined in virtually any form. Boron nitride is resistant to temperatures above 2,000 °C in inert and reducing atmospheres. Plus, it is not wetted by most molten metals and slags and can therefore be used as a container for most molten metals, including aluminium, sodium, iron, steel, silicon, boron and copper.
Applications of Boron Nitrid Ceramic
Protection and sheathing for thermocouples and measuring probes

Protection for casting tools

Electrical insulation at very high temperatures

Smelting and sintering crucibles

Resistance support

Furnace structures: tubes and insulation sleeves

Soldering and brazing: nozzles, brazing supports

PVD installations: masking supports, coating supports
Products in Boron Nitrid Ceramic
Final Advanced Materials offers three standard products:
Final®BN - Boron nitride with binder
Final®BN HP - High-purity boron nitride without binder
Final®BN HD2 - Boron nitride with greater mechanical resistance
We can offer various grades of boron nitride whose compositions contain other ceramics such as SiC, ZrO2, SiO2, AlN. We can also provide boron nitrides on request from Saint-Gobain, COMBAT® products (grade A, HP, AX05, M, M26 and ZSBN).
Final®BN P
Final®BN C
Final®BN I
Final®BN Z20
Final®BN Z40
Final®BN Z40D
Final®BN S
Final®BN A
Technical Data of Boron Nitrid Ceramic
A comparative table for the available machinable Boron Nitrid can be downloaded in the data sheet.


Physical variables included in this documentation are provided by way of indication only and do not, under any circumstances, constitute a contractual undertaking. Please contact our technical service if you require any additional information.