Boron nitride coating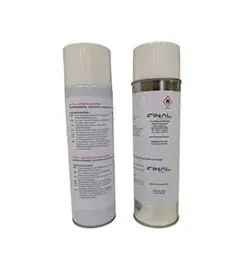 Hexagonal boron nitride suspension has a high thermal conductivity. It is not impregnated with molten metals and can be applied directly to the surface requiring protection, even if the surface is already hot. It remains consistent at high temperatures and inert to metals, glass or molten salts.
This system is unique in its properties, making it an ideal lubricant for hot parts and tools. It is a release agent and an effective coating for all very hot materials. Boron nitride remains effective up to 800°C in air and 1950°C in inert gas, making it a very good dry lubricant.
Its amazing features and ease of use have earned it the nickname "white graphite".
Specifications
High-temperature lubricant (1950°C)
High-temperature release agent
Protective coating for metals, ceramics, ceramic fibres and graphites
Facilitates casting of molten metals (aluminium, magnesium, zinc and lead)
Facilitates sliding of press tools at very high temperatures
Aerosol packaging for easy and universal use
Boron nitride (BN) is a semiconductor at high temperatures and an insulation at room temperature.
Usage
Clean the surfaces being coated, removing all splashes from melting or welding work
Shake the aerosol well
Spray about 70 cm from the surface being treated
Move the spray slowly and evenly
Apply in thin layers; if they are too thick the coat may crack
It is advisable to overlay several thin layers, waiting for each one to dry before applying the next
Applications
Thermocouple and probe protection
Protection for casting tools
High-temperature lubricant: foundry moulds, gasket wire drawing and more
Electrical insulation
Additive for silicone and resin to improve thermal conductivity
Release agent (metallurgy, metallisation industry, plastic injection moulds and more)
Protective layer for sintering and other applications
Coating to reduce friction and increase chemical inertness
BN 1012 is available as an aerosol or in a plastic bottle (5 and 10 litres)
Technical data
Reference

Bottle

Aerosol

Composition

BN powder dispersed in water - Additives 2 to 4% -

BN powder dispersed in ethanol - Additives 3% - CFC-free propellant

Colour

White

Electrical resistivity

2x1014 Ω

Friction coefficient

BN/BN (air) 0.18

BN/Steel (air) 0.18

BN/Stainless Steel 0.2-0.4

Density

1.12 to 1.14 g/cm²

Max. usage temperature

800°C in air

1950 °C in inert gas

Viscosity

11 to 13 seconds (cut Ford No. 4)

Flame resistant

Yes

Water resistant

Yes
Boron nitride has a hexagonal crystalline structure and a high thermal conductivity. Boron nitride coating has lubricant properties for an easier unmolding. Used as a protector coating as well, it offers an excellent electrical insulation and chemical stability.
Full description
Boron nitride coatings reduce friction and make an excellent lubricant. Made from boron nitride powder, water and a stabilizing agent, the slurry can be applied by brush, spray or soaking.
Full description