Silicate Fibre Felt 1,200°C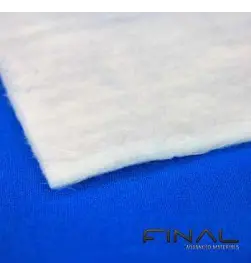 Silicate Fibre Felts, up to 1,200 °C
S98 fibre are made of more than 98 % silica (S98) and have a silicate fibre base that allows them to withstand application up to 1,200 °C.
Silicate fibre products are inorganic, and contain no toxic substances (asbestos-free) or irritants. The good thermal and mechanical properties of these products make them excellent replacements for asbestos-based products. With a diameter ranging from 6 to 9 μm, these fibres pose no hazard to health.
Silicate fibre felts do not contain any organic binders. The fibres are mechanically bonded, which makes the felt compact, flexible and gives it a good hold during processing. 
In comparative terms, silicate fibre-based textiles have superior high-temperature resistance to biosoluble fibre textiles.
Applications of Silicate Felts
Heat insulation

Acoustic insulation

Component for thermal and fire protection
Technical Data of Silicate Felts 
Property

Unit

Item N°

207-8701

Density

kg/m3

120-170

Width

mm

1,000

Thickness

mm

3-25

Roll Length 

m

10-75

Max. Operating Temperature

°C

1,000

Max. Peak Temperature

°C

1,200

Thermal Conductivity

(120 kg/m3)

Wm-1.K-1

0.053 at 200 °C

0.089 at 400 °C

0.119 at 600 °C

0.175 at 800 °C

0.190 at 1,000 °C
Physical variables included in this documentation are provided by way of indication only and do not, under any circumstances, constitute a contractual undertaking. Please contact our technical service if you require any additional information.