Basalt Fibre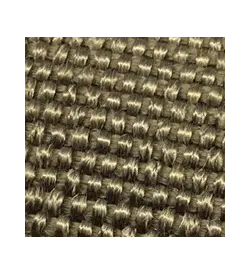 Final Advanced Materials offers a complete range of products in various forms of basalt: basalt tapes, felts, sleeves, fabrics, etc..
What are Basalt Fibres?
Basalt fibre has properties that are far superior to fibreglass. For example, basalt fabric subjected to the flame of a Bunsen burner will redden and could withstand for several hours compared to a few seconds for a fibreglass fabric of the same density. Basalt products resist flame, continuous temperatures of up to 700 °C, chemicals (acids and bases), are very good acoustic and electrical insulators and have good mechanical properties.
Because basalt remains functional down to -260 °C, it can be used for high temperature as well as cryogenic applications. Basalt fibre products are particularly popular in the automotive sector, as building materials in the form of non-woven needled felts, or as insulation materials for exhaust pipes, for example in the form of sheaths, strips or fabrics. In addition, basalt fibre is the most environmentally friendly high temperature resistant material when it comes to both manufacturing and recycling it.
Manufacturing of Basalt Fibres
Basalt fibre is made by the pultrusion of volcanic rocks, melted in blast furnaces. The fibre is drawn, as opposed to extrusion. This process makes it possible to create a continuous fibre, reinforced with a polymer.
General Characteristics of Basalt Fibres
Mechanical and Physical Properties
Basalt fibre has better physical and mechanical properties than fibreglass or silica fibre.
Thermal Properties
Basalt fibre products withstand temperatures from -260 °C to 700 °C (Z-Rock® tapes by Newtex can withstand up to 1,095 °C) and have a thermal conductivity close to that of fibreglass 0.031 W.m-1.K-1) and silica (0.038 W.m-1.K-1). The vitrification temperature of the basalt is 1,050 °C for a melting temperature of 1,450 °C. 
Environmental Resistance
Basalt fibres are highly resistant to UV rays, chemicals (acids and bases), weather constraints (especially moisture), are rot-proof and remain sterile. 
Benefits of Basalt Fibres
Good tensile strength (superior to fibreglass).

Non-toxic and inert, it produces no gas or smoke.

Resistant to UV, chemicals and remains sterile

Excellent dielectric insulator

Excellent impact resistance.


Excellent thermal and acoustic insulation.

Withstands temperatures from -260 °C to 700 °C.

Cheaper than carbon, Kevlar® and fiberglass)

Comparative Table
| | | | | |
| --- | --- | --- | --- | --- |
| Propreties | Unit | Basalt | E-Glass | Silicate |
| Density | g/cm3 | 2.75 | 2.6 | 2.10 |
| Coefficient of Linear Expansion  |  x10-6/K | 5.5 | 5.3 | 0.5 |
| Max Operating Temp.  | °C | 600 | 550 | 1,000 |
| Max Peak Temperature | °C | 700 – 1,095* | 700 | 1,200 |
| Thermal Conductivity at 20 °C | W.m-1.K-1 | 0.035 | 0.8-1.0 | 0.04 |
*Most product made of basalt fibres can withstand up to 700 °C; however, basalt tapes can withstand up to 1,095 °C due to their fabrication.
Applications of Basalt Fibres
Cryogenics

Manufacture of composites and reinforcements.

Insulation of cables and pipes.

Ballistics

Thermal and dielectric insulation.

Product Range in in Basalt Fibres
Needled Felts
Made from basalt fibres of 8 to 16 μm, the felts are classified M0 according to European standard EN 13-501-1. They do not burn, do not melt, produce neither smoke nor toxic gases, and are environmentally friendly and recyclable. They are mainly used as electrical and thermal insulators.
Sleeves
Manufactured from 8-16 μm basalt fibres, the sleeves are mainly used in the automotive industry or for electro-mechanical applications. They have thermal and mechanical properties superior to those of fibreglass and can be used in the manufacture of composites. They are also used in the insulation of electrical cables and as thermal protection for pipes and exhausts.
Z-Rock® Tapes
Newtex's Z-Rock® basalt fibre tapes are mainly used in the automotive industry for the insulation of exhaust systems. They withstand a continuous temperature of 815 °C and a peak temperature of 1,095 °C. Manufactured in the US, these strips have comparable properties to ZetexPlus® products, except they are more flexible and have a better rendering, meaning they avoid snagging during installation. They are mainly used in the automotive, aerospace and transportation sectors for cable, pipe and exhaust system insulation.
Fabrics
Made from continuous basalt fibres, the fabrics are used for protective purposes such as fire barriers. They remain flexible and easy to handle, even if they lose their mechanical properties and become rigid under excessive tension. Heavier than carbon, they are still less expensive. Much used in the automotive industry, these fabrics are mainly used for the insulation of exhaust pipes and to protect motor elements. We offer coated versions, used for fire barriers. Uncoated versions can also be used as moulds in the manufacture of composites

Physical variables included in this documentation are provided by way of indication only and do not, under any circumstances, constitute a contractual undertaking. Please contact our technical service if you require any additional information.