High Temperature Silicate Braided Ropes 1200°C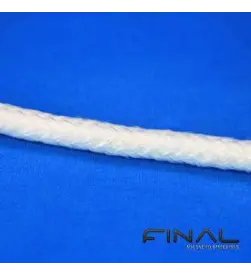 Silicate Braided Ropes, up to 1,200 °C
Final Advanced Materials supplies two silicate products, with a 98 % and 94 % SiO2 content, for the effective fulfilment of all requirements.
Silicate fibre braided ropes are inorganic and contain no toxic substances (asbestos-free) or irritants. The good thermal and mechanical properties of these products make them excellent replacements for asbestos-based products. Ranging from 6 to 9 μm in diameter, these fibres pose no hazard to health.
In addition to being excellent low-density thermal insulators, silicate fibre products are fire-resistant, and have a low coefficient of thermal expansion, even at very high temperatures. They are highly resistant to chemical agents, particularly acids, and to radiation. In comparative terms, silicate fibre-based textiles show superior resistance to high temperatures than biosoluble fibre textiles.
S98 braided ropes are comprised of over 98 % silica. They are suitable for high temperature applications up to 1,200 °C.
S94 braided ropes contain over 94 % SiO2, and function as excellent thermal insulators at temperatures up to 1,100 °C. 
Braided ropes are available in square or round sections.
Applications of Silicate Fibre Braided Ropes
Sealing gaskets

Thermal protection
Technical Data of Silicate Fibre Braided Ropes
Property

Unit

S98

S94

Item N°

207-8301

207-8302

207-7301

207-7302

Section

round

square

round

square

Diameter

mm

3 to 25

3x3 to 25x25

5 to 80

5x5 to 100x100

Length

m

30 to 100

30 to 100

10 to 100

10 to 100

Max. Operating Temperature

°C

1,050

1,050

1,000

1,000

Peak Temperature

°C

1,200

1,200

1,100

1,100
S94 fibre-based products are only produced on request, subject to a minimum order quantity.
Physical variables included in this documentation are provided by way of indication only and do not, under any circumstances, constitute a contractual undertaking. Please contact our technical service if you require any additional information.