High Temperature Biosoluble Tapes 1200°C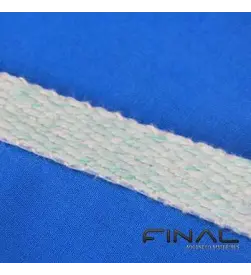 Biosoluble Tapes, up to 1,200 °C
Biosoluble fibres are guaranteed asbestos and ceramic fibre-free. To eliminate the health, risks associated with exposure to ceramic fibres or rock fibres for insulation, their chemical composition has been adapted. These fibres dissolve in bodily fluids such as those found in the pulmonary alveoli. They are less biopersistent, meaning they are eliminated more quickly by the body while maintaining their excellent thermal insulation and fire protection qualities. 
Biosoluble fibre tapes are available in 2, 3 and 5 mm thicknesses with widths of 10 to 200 mm. Adhesive strips and strips with boltholes are also available.
Our biosoluble fibre products are reinforced with glass or refractory steel which enhance their mechanical properties but limit their thermal resistance (up to 650 °C and 1,050 °C respectively).
Applications of Biosoluble Fibre Tapes
Insulation of pipes

Insulation of exhausts Insulation of electrical cables
Technical Data of Biosoluble Fibre Tapes
Property

Unity

Item N°

reinforced with glass : 207-6201

Itam N°

reinforced with Inconel® : 207-6202

Thickness

mm

2

2

2

2

2

2

Width

mm

25

50

100

25

50

100

Reel Length 

m

50

50

50

25

25

25
Other dimensions are available on request.
Physical variables included in this documentation are provided by way of indication only and do not, under any circumstances, constitute a contractual undertaking. Please contact our technical service if you require any additional information.