Technical Composite : Glass-Epoxy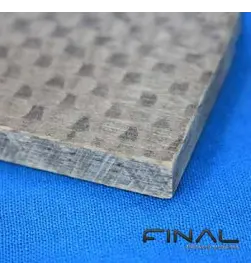 Overview: Glass-Epoxy Technical Composite
Final Advanced Materials works with a range of glass fibre- and high-performance epoxy resin-based technical composites. These products are suitable for a wide variety of high-temperature applications. 
Glass-epoxy composites provide impeccable thermal and electrical insulation. Their combustibility is controllable, and they can be ideally deployed in applications where high-temperature resistance, dimensional stability and mechanical strength are essential. 
Manufacturing
This product is a composite material, comprised of a glass-fibre matrix and an epoxy resin. Epoxy, or polyepoxide, is a resin produced by the polymerization of epoxide monomers using a hardener. Curing is achieved by the action of heat.
Final Advanced Materials can supply these composite products in sheet material form, for your own designs. It is also possible for us to undertake the complete execution of your project in our specialized workshop.
Applications of Glass-Epoxy Technical Composite
Electrical insulators in induction systems

Static electrical insulators in power installations

Construction of electric furnaces, induction furnaces and arc furnaces

Flat gaskets and sealing components

High-frequency welding technology

Insulation of press plates

High-voltage switchgear

Heating elements
Main characteristics of Glass-Epoxy Technical Composite
Low thermal conductivity

Good high-temperature resistance

Excellent dimensional stability

Suitable for sealing applications

Exceptional toughness

Good mechanical resistance

High dielectric strength

Good wear resistance

High compressive strength
Available Glass-Epoxy Technical Composite
E-6000 : This product combines low thermal conductivity (0.25 W.m-1. K-1) with low density, thus permitting the production of more delicate and lightweight insulating components. It is resistant to a continuous temperature of 220 °C and a peak temperature of 320 °C. This material is laminated from a basis of glass-fibre matting and whitish-yellow epoxy resin. It shows good resistance to chemical agents.
E-60 : This product delivers a superior mechanical and thermal performance to E-6000, but is less effective as a thermal insulator. It is resistant to a continuous temperature of 260 °C and a peak temperature of 330 °C. It is laminated from a basis of grey-coloured glass roving and epoxy resin.
Dimensions of Glass-Epoxy Technical Composite
Product

Type

Dimensions

Thickness

Tolerances

E6000

Board

1,900 x 1,000 mm 
2,440 x 1,200 mm

4 to 140 mm

Thickness ±0.1 mm

E60

Board

2,140 x 1,040 mm 
2,800 x 1,200 mm

3 to 80 mm

Thickness ±0.2 mm
Linear 0 /+30 mm
Parallel 0.3 mm/ml on corrected board

Customed designs are available on request.
Technical Data of Glass-Epoxy Technical Composite
Property

Unit

E60000

E60

Item N°

080-0016

080-0017

Composition

Fiberglass matting
Epoxy resin

Fiberglass roving
Epoxy resin

Colour

yellow-beige

grey-brown

Density DIN 53479

kg/m3

1,850

1,980

Thermal Properties

Max. Operating Temperature

°C

220

260

Peak Temperature

°C

250

330

Thermal Conductivity DIN 52612

W.m-1.K-1

0.35

0.30

Mechanical Properties

Compressive Strength ⊥ ISO 604

at 23 °C

MPa

450

600

at 200 °C

280

300

at 220 °C

-

290

at 260 °C

-

250

Shock Resistance ∥ to bedding plane ISO 179

kJ/m2

50

-

Flexural Strength ⊥ ISO 178 

MPa

360

-

Tensile Strength ∥ ISO 527

MPa

280

-

Elastic Modulus DIN 7735

MPa

-

20,000

Dielectric Properties

Dielectric Strength at 90 °C

13 kV/mm
IEC 60243

40 kV
DIN 53481

Breakdown Voltage at 90 °C ∥ IEC60243

kV/25 mm

70

-

Comparative Tracking Index IEC60112

150

-

Chemical and Biological Properties 

Linear Thermal Expansion Coefficient

10-6/K

0.01-0.02

-

Water Absorption

%

< 0.2 ISO 62

0.05 DIN 7735

Resistance to Oils

Good

Excellent

Resistance to Chemicals

Excellent

Excellent

Arc Resistance

-

Excellent
Physical variables included in this documentation are provided by way of indication only and do not, under any circumstances, constitute a contractual undertaking. Please contact our technical service if you require any additional information.