Mica Adhesive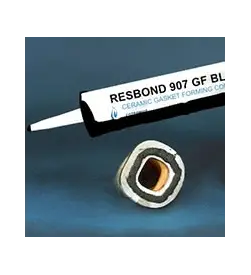 Cotronics® Resbond® high temperature adhesive are based on high purity ceramic binders and selected reinforcing fillers.
These adhesives have excellent adhesion to ceramics, metals, glass and plastics. They offer excellent high temperature stability, dielectric strength, mechanical properties and thermal shock resistance.
Mica Adhesives
Resbond® 907
Resbond® 904 is a single component Ceramic Composite based on Mica platelets and proprietary ceramic binders. Resbond® 907 all-purpose adhesive offers high bond strength, solvent and electrical resistance. Safe to use. No objectionable or toxic odours. Use from -130°C to 1260°C. Resbond® 907 was developed to provide a Fire Proof Adhesive for applications in production, development, repair and maintenance. Just apply directly to clean steel, iron, lead, ceramics, most metals, etc. without any special surface treatment. Air dries in 24 - 48 hours at room temp. or in 1 hour at 120°C.
Resbond® 907GF
Resbond® 907GF Fireproof Adhesive and Sealant is a moist, creamy putty for use from -180°C to 1285°C. It is easily applied from standard caulking cartridges and air dries in 4- 12 hours at room temperature. Curing may be accelerated with mild heat. Resbond® 907GF has excellent adhesion to clean steel, stainless, iron, most metals, ceramics, ceramic cloths, tapes, gaskets, tadpoles' gaskets, etc. Resistant to most chemicals, solvents, oxidizing and reducing atmospheres, aging, thermal cycling, and electricity. Packaged in convenient dispenser tubes and standard caulking cartridges. Resbond® 907GF is ideal for use in any high temperature Assembly, Production, Repair or Maintenance Application.
Technical data
Mica Cement Adhesive

907

907GF

Peak Temperature

°C

1260

1650

Components

 

1

1

Consistence

 

Paste

Mastic

Charge

 

Mica

Mica

Compressive Strength

N/mm² (20°C)

24.1

10.3

Flexural Strength

N/mm² (20°C)

8.6

 -

Thermal Conductivity

W/mK

0.86

0.86

Thermal Expansion

x 10-6 K-1

8.1

 -

Dielectric Strength

kV/mm

11.7

5.6

Resistivity

Ω.cm

109

109

Mix Ratio

Powder - Binder

N.A.

N.A.

Cure Temp.

Hrs @

Room Temp.

24h

24 – 48h

Cure Temp.

°C

120°C

1h @ 120-175°C