Technical Composite : Mica-Silicone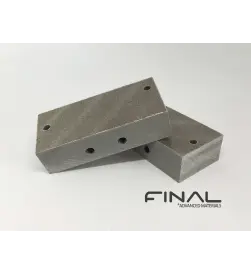 Overview: Mica-Silicone Technical Composite
Final Advanced Materials processes mica in various forms. It can be employed in the form of a textile, for flexible solutions, but also in the form of a solid sheet material. Regardless of the product selected, the properties of mica make it an ideal candidate for thermal and electrical insulation applications.
MC-5000HT mica is composed of 90% phlogopite mica and 10% silicone binder. Mica panels can be used as a replacement for products containing asbestos. The continuous service temperature is 1,000°C. 
Recommandation: 
Mica MC 5000-HT is a composite mica sheet. It is therefore sensitive to delamination. Thus, the feasibility of machining the material should be studied in advance. The fabrication should then be carried out by specialists with specific equipment. Final Advanced Materials offers its study and manufacturing services.

For insulation applications, it is recommended to sandwich the mica sheets in their supports to prevent delamination at high temperatures (>300°C).
Mica composite materials are mainly used in the following areas:
In the glass industry, the thermal properties and abrasion resistance of MC-5000 are advantageous.

In the gass distribution sector, its pressure resistance and high-temperature resistance permit the prevention of gas leaks, even during a fire.

In the induction furnace construction sector, MC-5000 is employed for its thermal and electrical insulating properties, and for its permeability to high-frequency waves.

Reduction of heat losses between the plates of forging presses, on the grounds of its resistance to pressure at high temperatures 
Applications of Mica-Silicone Technical Composite
Guide for bottles released from a mould

High-voltage applications

Sealing of internal network connections

Construction of induction furnaces


Forging presses
Main Characteristics of Mica-Silicone Technical Composite
Low thermal conductivity

Good resistance to high temperatures

A good electrical insulator

Non-toxic

High compressive strength at high temperature

Excellent resistance to flame

Good electrical arcing resistance and erosion resistance
Please consult us for machining and bonding needs.
Dimensions of Mica-Silicone Technical Composite
Type

MC5000-HT

Dimensions

Board

For every thickness: 1,220 x 1,020 mm and 1,200 x 1,000 mm
For 5, 10 and 15 mm thickness: 2,420 x 1,020 mm 

Tolerances

±0.7 % thickness 2 mm
-5 % to +7% from 2.1 to 6 mm
-4 % to +5 % from 6.1 to 40 mm
-2 % to +3% from 40.1 to 100 mm

Customed designs are available on request.
Other products available 
Depending upon requirements, it is also possible for this composite mica material to be procured in other forms (subject to the confirmation of a minimum order quantity and lead time): 
Mica tubing (with similar characteristics to panels) up to a diameter of 300 mm and a length of 1,100 mm. 
Mica gaskets: Mica/silicone in its flexible version allows for high-temperature sealing. With additional reinforcement using Inconel stainless steel in various forms, the material becomes particularly resistant to pressure, hot gases, and acidic fumes. Final Advanced Materials studies your application and offers the most suitable composite.
Mica paper impregnated with silicone resin laminated on a woven fiberglass support becomes highly efficient for electrical insulation and flame resistance applications. Mica paper can be custom-cut from sheets or rolls. Final Advanced Materials studies your parts and optimizes the cutting placement to minimize waste. Ordering these products is subject to a minimum quantity.
Minimum order required. 
Technical Data of Mica-Silicone Technical Composite
Property

Unit

MC-5000HT

Item N°

080-0011

Composition

90 % phlogopite mica
10 % silicone resine

Density

kg/m3

2,200

Thermal Properties

Max. Operating Temperature

°C

700

Peak Temperature

°C

1,000

Weight Loss

V-0 (UL 94)
< 2 % IEC 371-2

Thermal Conductivity ⊥ to the board

at 23 °C

W.m-1.K-1

0.30

at 100 °C

0.31

at 200 °C

0.32

at 300 °C

0.345

Mechanical Properties

Compressive Strength ⊥ to the board ISO 604

at 20 °C

kJ/m2

300

at 200 °C

MPa

240

Flexural Strength IEC 371-2

MPa

120

Tensile Strength ISO 527

MPa

110

Electrical Properties

Dielectric Strength IEC 371-2

kV/mm

25

Chemical Properties

Water Absorption IEC 371-2

%

< 0.5

Resistance to chemicals

Excellent

Thermal Expansion Coefficient

10-6 K-1

10
Physical variables included in this documentation are provided by way of indication only and do not, under any circumstances, constitute a contractual undertaking. Please contact our technical service if you require any additional information.