Pressed Technical Ceramics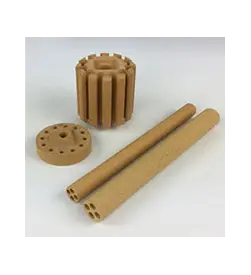 Overview: Pressed Technical Ceramics
Pressed ceramic products complete the range of ceramics supplied by Final Advanced Materials. This range is suitable for applications which are subject to less severe constraints. The requisite properties for these applications are achieved by firing to a temperature in excess of 1,000 °C, i.e. a temperature which is lower than that required for the production of sintered or machinable ceramics.
Parts are produced by shaping in dry presses, by a liquid method, or by extrusion. Treatment is possible in the raw state.
We supply the following ceramics as standard products:
Mullite
Steatite
Porous steatite
Cordierite
Porous cordierite
Applications of Pressed Technical Ceramics
Support for heating conductors

Spark protection

Gas engineering

Electric heating systems

Components for cartridge heaters

Electric heat accumulators

Electrical resistors
Benefits of Pressed Technical Ceramics
Hardness

High mechanical resistance

Dimensional stability, even at high temperatures

Resistance to wear and corrosion

Electrically insulating

High-temperature withstand

Chemical resistance

Dielectric and ferro-electric properties
Comparative Table
| | | | |
| --- | --- | --- | --- |
| Property | Ceramic | Metal | Polymer |
| Hardness | High | Low | Bad |
| Elastic Modulus | High | Good | Low |
| Resistance to High Temperature | High | Low | Bad |
| Thermal Expansion | Low | Good | Good |
| Malleability | Low | Good | Good |
| Corrosion Resistance | Good | Low | Low |
| Erosion Resistance | Good | Low | Low |
| Electrical Conductivity | Low | Good | Low |
| Density | Average | High | Low |
| Thermal Conductivity | Average | Good | Low |
Design
Ceramics are materials which are subject to particular design considerations, as they are not ductile and have a very high melting point. Preliminary powdering is necessary, prior to the consolidation of the material form at a high temperature. Various processes are available for this purpose: these include the liquid, plastic, or dry method.
Final Advanced Materials employs the liquid method for the formation of its basic ceramic products. The powdered raw material is dispersed in a solvent, together with a binder. This solid material in suspension forms the ceramic slip. It is then compacted in a tool in order to obtain the desired component. This step is described as extrusion. The extrudate must then be allowed to dry, before being fired at a high temperature. During sintering, the material grains bond together to consolidate the final product.
Our range of Pressed Technical Ceramics
Mullite
Mullite is a ceramic which is produced artificially, on the grounds of its rarity in the natural state. It is comprised of kaolin or clay, mixed with alumina and silica. These elements are transformed into mullite after firing. Mullite is valued for its refractory properties: low thermal expansion, low thermal conductivity, excellent thermo-mechanical stability and excellent resistant to thermal impacts. It also shows good resistance to deformation – a useful property for components which are exposed to high pressure.
Synthetic Steatite
Two types of synthetic steatite, by opposition to natural steatite which is used in machinable ceramics, are avalaible:
Non-Porous Steatite
Non-porous steatite is a very delicate mineral, the main component of which is talc. It provides a cost-effective option for insulation and machining, without the necessity for particular tooling. Its electrical resistance remains high, even at high temperatures, and it shows good mechanical resistance.
Porous Steatite
Porous steatite has similar properties to normal steatite. However, it shows a lower mechanical resistance, and is more resistant to thermal impacts, due to its porosity.
Synthetic Cordierite
Two types of synthetic cordierite, by opposition to natural cordierite which is used in machinable ceramics, are avalaible:
Non-Porous Cordierite
Non-porous cordierite is a rock which is equally at home in jewellery as in the refractory industry. It has multiple qualities: low thermal conductivity and a low coefficient of expansion, resistance to heat, low dielectric losses, resistance to corrosion, particularly by molten metals, and excellent high-pressure vacuum withstand. Moreover, its limited thermal expansion is beneficial for components with stringent tolerances.
Porous cordierite
Porous cordierite shares numerous properties with normal cordierite. However, it has a lower mechanical resistance. Its porosity nevertheless permits the more effective accommodation of thermal impacts.
Comparative Table
A comparative table for the available pressed technical ceramics can be downloaded in the data sheet.
Physical variables included in this documentation are provided by way of indication only and do not, under any circumstances, constitute a contractual undertaking. Please contact our technical service if you require any additional information.