High Temperature Epoxy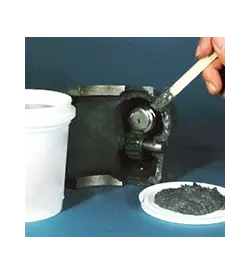 Cotronics® unique cross linked, organic-inorganic, polymer systems have excellent adhesion, high temperature stability, dielectric properties and superior chemical, corrosion and moisture resistance.
Duralco® Epoxies offer high bond strength, high temperature stability, low moisture absorption and low shrinkage. They are 100% solid systems. User friendly. No volatiles. Low odour. No VOC's.
Specific applications Epoxy Resin
200°C - DURALCO® 4400
Use Duralco® 4400 for high strength, thermally conductive and electrically resistant bonds. Cures at room temperature without any objectionable odours. 4400 provides the thermal shock resistance and flexibility required to accommodate differences in thermal expansion which occurs during high heat flows. Duralco® 4400's unique combination of bond strength and thermal conductivity proved to be successful in this severe environment.
230°C - DURALCO® 4420
Duralco® 4420 is ceramic filled and offers excellent electrical properties. No measuring, mixing or mess. Just apply and heat cure. Adheres to ceramics, glass, metals, plastics, mica, bond dissimilar materials, etc. and has excellent resistance to solvents, fuels, lubricants and most common chemicals. Provides the low moisture absorption required for many electronic applications.
Low Viscosity Epoxy Resin
315°C - DURALCO® 4460
Duralco® 4460 low viscosity, liquid adhesive forms ultra-thin bond lines and is ideal for impregnating, coating and encapsulating. 4460 has the chemical, electrical and radiation resistance that is often required in the most critical applications. This Unique Polymer System can be used up to 315°C after a heat cure at moderate temperatures.
260°C - DURALCO® 4461
Duralco® 4461 is a free flowing, liquid adhesive that is ideal for forming ultra-thin bond lines, impregnating, coating and encapsulating applications. Has excellent adhesion to metals, plastics, ceramics, glass, etc. Cures at room temperature to provide chemical, solvent and corrosion resistance in any high temp. application. Can be used up to 260°C as a protective coating for coils, filament windings, electronics, etc. It is an ideal choice for high temperature applications in electronics, optics, instrumentation, etc.
220°C - DURALCO® 4462
Duralco® 4462 has exceptional moisture, chemical, high temperatures and electrical resistance. It's a transparent, very fluid resin, that polymerizes at room temperature and offers a continuous use temperature of 220°C. 4462 displays optical quality comparable to acrylic plastics and ensures good light transmission. This resin finds its most common applications in optical systems, liquid crystal displays, various instruments, jewellery, etc ...
Low thermal expansion Epoxy Resin
260°C - DURALCO® 4463
Duralco® 4563 is a low expansion, 260°C, room temperature curing adhesive and potting compound. Bonds to most glass, ceramics, metals, plastics, etc. Use this unique system for high performance bonding and encapsulation applications. Low expansion is a must in many electronic, optical and fiberoptic applications. 4463 offers strength, high temperature stability, thermal shock resistance, chemical resistance and low shrinkage.
General Use Epoxy Resin
260°C - DURALCO® 4525
Duralco® 4525 cures at room temperature, or in 5 minutes at 120°C, to provide high bond strength, high temp. stability, low shrinkage, excellent chemical, electrical and radiation resistance and low moisture absorption. It maintains its high electrical resistance over long periods of time and has the lowest moisture absorption available when compared to 23 commercially available epoxies. (This application has been approved by UL). 4525 is ideal for high performance bonding, potting, sealing, repairs, castings and jigs. Forms protective coatings. Commonly found in electronics, appliances, instrumentation, motors, equipment, etc
Vibration-resistant Epoxy Resin
230°C - DURALCO® 4535
Duralco® 4535 is a 2-component epoxy adhesive with high colloidal strength, mechanically resistant, which polymerize at room temperature in 24 hours. 4535 is resistant to thermal shock and peeling. Its good flexibility, its low shrinkage and its excellent dielectric coefficient, open a wide range of applications, especially in all systems subjected to vibrations.
230°C - DURALCO® 4537
Cotronics®' High Performance, High Temperature Epoxies are available in easy to use Epox-Eez® "Twin Pack Cartridges". Just place the twin pack cartridge into the convenient, applicator gun, snap on a mixer tube and squeeze to apply. The completely measured and fully mixed Duralco® 4537 will cure at room temperature to provide up to 230°C service. No more time-consuming weighing and measuring. Ideal for use in any high temperature application.
Flexible Epoxy Resin
235°C - DURALCO® 4538
Now, unlike ever before, there is a solution for applications requiring the ultimate in thermal shock and vibration resistance, sound absorption and excellent adhesion to dissimilar substrates.
Duralco® 4538 offers the flexibility of silicones and the chemical stability of epoxies. This completely variable system can be tailored to meet any application requirement just by varying the mix ratio of resin to hardener resulting in the exact degree of flexibility required for any application.
It's easy to use. Just dispense resin and hardener, mix to a uniform colour and apply. Adheres to most plastics, metals, ceramics, glass, rubber and even Teflon™ (treated). Cures at room temp. for use from - 70°C to 230°C and will not soften or gum up at high temperatures. 4538 offers excellent chemical resistance and high bond and peel strength. It is ideal for all electric and electronics applications and can be used with most common chemicals and solvents.
Duralco® 4538 's convenient room temperature cure and superior high temperature performance makes it easy to use in any prototype or production application.
Machinable Epoxy Resin
260°C - DURALCO® 4540
Duralco® 4540 is filled with ultra-fine, aluminium metal powder creating a pourable liquid that easily penetrates fine openings, fills gaps and voids, seals, patches and repairs. Just mix, apply and cure at room temperature for outstanding adhesion, ductility, thermal conductivity and shock resistance. 4540 is machinable and rugged. It is resistant to chemicals and solvents and can be used to 260°C.
340°C - DURALCO® 4703
Duralco® 4703 is a composite of Cotronics®' unique high temperature resins, metallic and ceramic particles. It offers the ultimate stability and strength in high temperature environments. 4703 has excellent resistance to most chemicals, solvents, acids and bases and is easily machined to close tolerances. Applications include repairing and rebuilding worn or cracked composites, dies, fixtures, jigs, etc.
4703 is ideal for use as a high temp. adhesive for bonding, potting, injection molding, matched dies, vacuum forming dies, extrusion dies and tooling.
Very high temperature Epoxy Resin
Very high temperature
Duralco® 4700's unique properties stem from Cotronics®' cross linked, inorganic - organic polymer system which, upon curing, forms an exceptionally durable epoxy for use to 315°C. User friendly. No volatiles. No solvents. No out gassing. Simply mix the liquid resin and liquid hardener and follow with a heat cure at 120°C (minimum). 4700 has excellent adhesion to metals, glass, ceramics, most plastics, etc. It is a superior adhesive that has high electrical resistance, low moisture absorption, high temperature stability, high bond strength, low shrinkage and excellent chemical, solvent and radiation resistance.
4700 is ideal for sealing electrical connections and is commonly used for high performance bonding, potting and repairing applications in electrical, electronic, automotive, aerospace, nuclear, chemical, production and laboratory applications.
Antimagnetic Epoxy Resin
260°C - DURALCO® NM25
Duralco® NM25 is an adhesive proven for bonding magnets while withstanding the high temperatures encountered in high performance applications. It is free of magnetic particles or conductive fillers which would interfere with magnetic fields when in use. Just mix and apply. NM25 cures at room temperature to provide excellent chemical solvent and moisture resistance. Will form thin bond lines and is ideal for use in applications with minimum clearance. NM25 has a medium viscosity and can form thin bond lines NM25 HV is a non-sag, putty.
Sterilizable Epoxy Resin
260°C - RESBOND® S5H13
Resbond® S5H13 is a unique epoxy that after a simple room temperature cure can assemble, bond and insulate stainless steel, metals, glass and ceramic components for use up to 260°C. Specially formulated to resist the severe conditions that are encountered during repeated hot sterilization as required for various medical applications. It is resistant to most common chemicals and solvents.
S5H13 is commonly used for high performance bonding, assembling, potting, sealing, coatings and repairs in instruments, devices, equipment, etc.