Alumina silicate : Machinable ceramic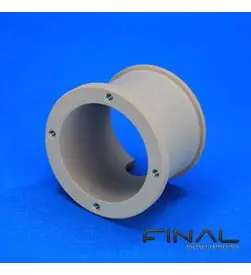 Final Advanced Materials provides alumina silicate, machinable high temperature ceramic. We offer boards, rods or machined parts according to your drawings.
Alumina silicate, machinable ceramic presentation

Aluminia Silicate is a pyrophyllite rock. The ore that we have selected, features exceptional mechanical and thermal performances. After treatment at high temperature, the material acquires similar properties to those of known synthetic ceramics.

This material allows to solve with a remarkable implementation flexibility, problems that arise in laboratories and engineering consultants of all industries where ceramics are essential for their :


Dielectric and thermal insulating property
Resistance to chemical agents
Stability and shape accuracy
Heat resistance up to 1300 ° C
Excellent resistance to high vacuum (up to 10-8 torr)

This material is machined with a conventional tooling, sawing, milling, drilling, turning.

It's a machinable ceramic, whose machinability is remarkable. The homogeneous structure of the mineral allows the use of standard tools, usually dedicated to metalworking. This feature allows it  more particularly to manufacture prototypes and parts series in very tight tolerances.

Very low and constant high temperature shrinkage (≤ 1%) authorizes the use of this material up to 1300 ° C, subject to compliance with a specific heat treatment procedure.


We can provide alumina silicate :

- We offer  the possibility to supply this natural ceramic in form of plates or bars which will allow you to realise ceramic parts with your own ways of machining. A detailed machining procedure,will help you to transform this material into a technical part of precision.

- The alternative is to provide us a detailed plan, that we will investigate and we will send you as soon as possible  a detailed manufacturing quotation.


Alumina silicate, machinable ceramic applications
Machining of components and toolings
Realisation of prototypes
Manufacturing of small ceramic series
Coil cores
Electrical insulator
Template of assembly
Injectors, nozzles
Vacuum parts
Thermal insulators, inductive insulators
Template of brazing and welding
Sensors
Properties

Units

Alumina silicate raw

Alumina silicate

1100°C

Alumina silicate

1300°C

Macor®

Glass ceramic (Vitro 800)

Machinable alumina

Machinable boron nitride

Aluminium nitride (Shapal M™)

Machinable Aluminium nitride

Physical characteristics

Density

g/cm3

2.2

2.4

2.5

2.52

2.7

3.8

1.85

2.9

2.9

Porosity

%

1.5 - 2

0 - 0.5

0 - 0.5

0

 0.096

10

14

0

< 0,1

Water uptake

%

1.5 - 2

0 - 0.5

0 - 0.5

0

0.038

2 - 3.5

/

0

0

Mechanical characteristics

Hardness

Mohs: 2.5

Mohs: 5.5

Mohs: 7.5

Rockwell A: 48

Mohs: 4

Mohs: 5

Knopp: 4 kg/mm²

Vickers: 3900 Mpa

Vickers: 3750 Mpa

Compressive Strength

N/mm2

6

150

800

345

 488

422

20

1200

1170

Flexural Strength

N/mm2

12

50

80

94

 108

267

50

300

300

Modulus of Elasticity

GPa

/

/

/

66.9

 65

/

/

190

180

Thermal characteristics

Peak Temperature

°C

900

1100

1400

1000

 800

1650

850

1000

1000

Continuous Temperature

°C

700

1100

1300

800

 800

1650

850

1000

1000

Specific Heat at 20°C

J/kg°K

/

/

/

0.79

/

/

1.5

/

/

Thermal Conductivity at 100°C

W/m°K

1.07

1.7

2.2

1.46

 1.68

4.61

90

90

90

Coefficient of Expansion

20 - 40°C

10-6/°K

/

/

/

9.3

/

/

/

4.4

/

20 - 600°C

/

2.9 - 3.6

 6-8

11.4

8,6

/

/

4.8

4.5

20 - 800°C

/

/

/

12.6

/

/

/

5.1

/

20 - 1000°C

 7-12

/

 4-10

/

/

/

0.57

/

/

Electrical characteristics

Specific Resistivity at 20°C

Ohm.cm

1010

1012

1012

1016

 1.8x1014

1014

1014

1012

1012

Dielectric Constant at 20°C

at 1 KHz

/

/

6.1

6.03

 6~7

9 (@ 100kHz) 

4

7.1

7.1

Loss Tangent

at 1 KHz

/

/

9x10-5

0.005

 /

/

0.0012

0.001

/

Dielectric Strength at 20°C

kV/mm

 8-10

 6-7

 12-17

40

 > 15

7.87

2

40

40

Chemical characteristics

Corrosion resistance at 20°C

B

B

B

B

 B

B

/

/

/

Resistance to alkalis at 20°C

B

B

B

TB

 TB

B

/

/

/