Machinable Ceramic: Alumina Silicate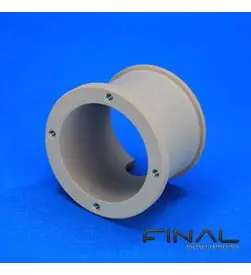 Overview: Machinable Alumina Silicate
Alumina silicate is a natural ceramic which is sourced from a pyrophyllite rock. Final Advanced Materials employs a mineral which is endowed with exceptional mechanical and thermal performance capabilities. After high-temperature treatment, this material acquires properties which are similar to those of known synthetic ceramics.
The remarkable flexibility of application of alumina silicate permits the resolution of issues raised by ceramics in laboratories and design offices.
Alumina silicate is frequently a key element of projects, because of its properties:
Dielectric and thermal insulating capabilities
Resistance to thermal impacts
Resistance to abrasion
Resistance to chemical agents
Dimensional stability and accuracy
Suitability for metal plating
Heat-resistant up to 1,300 °C
Non-combustible
Low absorption of humidity
Excellent under high-pressure vacuum (up to 10-8 torr)
Limited production time
Fusion compatibility with aluminium, zinc, lead, sodium or cast iron
Absence of glass marking
Compliance with food grade testing in accordance with NF EN ISO standard 10545-15
Alumina silicate shows very low shrinkage (≤ 1 %), and remains stable at high temperatures. It can be used at temperatures up to 1,300 °C, provided that a specific thermal treatment procedure is observed.
Final Advanced Materials can supply ceramic rods or plates for your own use, but it is also possible for us to undertake the complete execution of your project.
Applications of Machinable Alumina Silicate
Machining of components and tooling
Prototypes
Manufacture of small production series in ceramics
Winding cores
Electrical insulation
Assembly jigs
Injectors, nozzles
Components under vacuum
Thermal insulators
Induction insulators
Brazing jigs
Soldering jigs
Sensors
Machining instructions
To learn more about machining alumina silicate, please refer to the general machinable technical ceramics page. 
Instructions of Implementation of the Ceramic
In its raw state, alumina silicate is machined like wood or brass, with the bandsaw, and for any traditional process: milling, turning, threading, boring, grooving, polishing, it is recommended to use tools in very hard metals, without cooling, and to clean carefully dusts of ceramic. 
In the cooked form, note that parts should not exceed 12 mm of thickness if you want to avoid any crack; for higher thicknesses we shall drill holes. 
During firing, the ceramic expands, from 1.9 % at 980 °C to 2 % at 1,040 °C. Beyond, variations are negligible and the precision can reach ± 0.05 mm.
We can finish grinding by softening. To bond this ceramic, we shall prefer the ceramic glue Cotronics® 919 from our catalogue.
Firing Procedure
To resist at more than 650 °C, the parts must be prepared in the furnace by sintering. The operation will start in cold oven and the heating levels will not exceed 260 °C per hour. Consider the expansion to obtain the final dimensions (approximately 2 %). These levels will have to go down to 150 °C per hour if the parts have a thickness of more than 12 mm. The maximum temperature will not exceed 1,010 °C to 1,100 °C, and will be held, from 30 min for a thickness of 6 mm to 45 min for a thickness of 20 mm (calculate the right value by extrapolation). We shall cool then gradually until the part will be taken out of the furnace at about 90 °C.
A cost-effective alternative to sintered ceramics
Alumina silicate provides a highly cost-effective alternative to sintered ceramics for applications at temperatures up to 1,300 °C.
For example, the production of a sintered ceramic component involves the machining of a material blank by the exclusive use of a diamond wheel. Accordingly, both the raw material and the machining process are highly expensive. Conversely, raw alumina silicate can be machined very easily using conventional tools. Machining costs are therefore low, as is the cost of the raw material.
Thereafter, thermal withstand is achieved by heat treatment at 940 °C, 1,100 °C or 1,300 °C. Where tolerances are highly restricted, finishing with a diamond wheel may be necessary.
Alumina silicate also provides a useful alternative to Macor®, depending upon the dimensions and the machining tolerances of the part to be produced.
For applications involving the contact of a mechanical component with glass, or for applications in the glass industry, alumina silicate delivers superior results to boron nitride at a substantially lower cost.
Special Instructions
Action

Recommendations

Heating

Plan the expansion from 1.8 to 2 % during heating:
a machined dimension of 9,8 mm will become a final dimension of 10 mm.
Diameters also undergo this expansion.

Cleaning

Clean the machines thoroughly after work:
alumina silicate is abrasive in powder form.

Remachining

Once cooked, ceramics can be remanufactured with water to a very high precision,
when required by the application, by means of silicon carbide grinding wheels.

Lubricant and Coolant

NEVER use neither lubricants, nor cooling liquids.

Thickness 

Maximum 12 mm, in order to avoid cracking.

For thicknesses exceeding 12 mm, load-relief holes are required.

Rectification

This is possible, where a surface softening treatment is applied.

Adhesive Bonding

Resbond® 919 ceramic adhesive produced by Cotronics®,
available from our catalogue.

In Case of Failure

Remember to check the causes most frequently observed: 

- Is the firing temperature adjusted?

- Is there a miscalculation of the expansion?

- Does the created model present sharp corners and «hard» transitions?
Composition
These values represent the quality of a product which has been heated at 1,300 °C.
| | | | |
| --- | --- | --- | --- |
| Composition | % | Composition | % |
| SiO2 | 60 | Na2O | < 0.2 |
| Al2O3 | 35 | P2O5 | 0.15 |
| TiO2 | 2 | MgO | < 0.08 |
| K2O | 1 | CaO | 0.03 |
| Fe2O3 | 0.8 | Na2O | < 0.2 |
Technical Data of Machinable Alumina Silicate
A comparative table for the available machinable alumina silicate can be downloaded in the data sheet.
Physical variables included in this documentation are provided by way of indication only and do not, under any circumstances, constitute a contractual undertaking. Please contact our technical service if you require any additional information.