Nanoporous insulation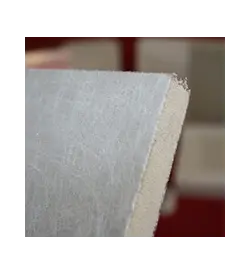 The high insulating capacity of nanomaterials comes from their composition of nanoporous ceramic particles. There are only temporary contacts between these particles and the surface ratio is the lowest possible. As a result, the thermal conduction between solid particles is reduced to a minimum. Nanopores also limit convective heat transfer.
All these characteristics make this type of material more efficient than conventional insulating materials such as mineral fibres, refractory bricks and other inorganic products.
This product consists of silica SiO2 (~80%), silicon carbide SiC (~15%) and opacifiers (TiO2 or ZrO2). Nano T is light and powdery and is available as pressure-injection boards.
Main properties of Nano T
Usage temperature 950 to 1050°C
Very low thermal conduction, from 0.021 to 0.040 W/mK
Good machinability for shaping parts
Reinforcement by PE film, aluminium foil and more available
Class A1 flame protection
Thermal shock resistance
Excluded from all carcinogenic classifications
Stored as a non-hazardous and non-pollutant product
Applications of Nano T
Tapping launders
Refractory coatings
Storage, heating systems
Melting furnaces
Industrial furnaces
Flame protection
Thermal insulation
Glass treatment
Further informations
Standard dimensions of Nano T
Our products are available as boards/panels. The standard dimensions are:
500 x 600 mm
600 x 1000 mm
1000 x 1200 mm
Thicknesses 10, 12, 15, 17, 20, 25, 30, 35, 40, 45 and 50 mm
Machinability
Our machining skills mean we can produce parts with the most complex geometries, from prototype to series. Simply send us your plans.
Technical data
Properties

Units

Nano T High

Nano T Ultra

Density

kg/m3

250

230

Peak Temperature

°C

1050

950

Colour

 

White

Grey

Compressive Strength (cold)

MPa

3

/

Compressive Strength (700°C)

MPa

1.3

/

Flexural Strength (cold)

MPa

/

0.16

Specific Heat (400°C)

J/kg.K

1.05

/

Thermal Conductivity

200°C

W/mK

0.021

0.02

400°C

W/mK

 /

0.024

800°C

W/mK

 /

0.04

Shrinkage

 (@ 800°C / 24h)

%

0.5

1