Biosoluble fibres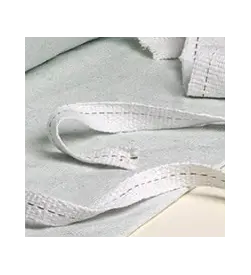 Biosoluble fibres overview
Biosoluble fibres are guaranteed asbestos and ceramic fibre-free. In order to eliminate the health risks associated with exposure to ceramic fibres or rock fibres for insulation, their chemical composition has been adapted. These fibres dissolve in bodily fluids such as those found in the pulmonary alveoli.
They are less biopersistent, meaning they are eliminated more quickly by the body while maintaining their excellent thermal insulation and fire protection qualities. Our biosoluble fibre products are reinforced with glass (650°C) or refractory steel (1050°C).
Heath and safety
Low bio persistence
Excluded from all carcinogenic classifications
Stored as a non-hazardous product
Thermal properties
Can be used up to 1200°C
Very good resistance to high temperatures
Low thermal capacity
Low thermal conductivity
Resistance to thermal cycles
Mechanical properties
Good mechanical resistance
Very low linear shrinkage (<2% up to 1200°C)
Low flexibility
Chemical properties
Very good resistance to various chemicals (except phosphoric and hydrofluoric acids and concentrated bases and solvents).
No usage restrictions
No reaction with alumina
Biosoluble fibre products
Strips
Biosoluble fibre strips are available in 2, 3 and 5 mm thicknesses with widths of 10 to 20 mm. Adhesive strips and strips with bolt holes are also available.
Rolls
Produced with an E fibreglass sheath, the roll has excellent flexibility while maintaining good mechanical strength. The core consists of 100% biosoluble fibres. Rolls are available in diameters from 12 to 80 mm in round or square sections and can reach a maximum temperature of 600°C.
Ropes and cords
Biosoluble fibre glass ropes and cords feature a fibre glass sheath. They can be reinforced with refractory steel or fibreglass. We offer diameters from 12 to 60 mm.
Braids
The biosoluble fibreglass braids are available in square or round sections. They are available in reinforced glass or refractory steel with diameters from 5 to 60 mm. A refractory steel reinforcement can be added to increase the high temperature resistance of the braid as well as its physical properties, maintaining excellent flexibility.
Bulk fibre
The product consists of a mass of randomly orientated, long, fluffy, resistant fibres.
It has excellent thermal stability and retains its flexible fibrous structure up to a temperature of 1000°C. It contains no binders and emits no smoke or odour when first heated. It is available lubricated for use when filling or as expansion joints. The non-lubricated version is particularly useful for vacuum forming.
The fibres are insensitive to thermal shock and absorb very little energy when heated.
The fibres are available in short, medium, long and extra long sizes. The level of thermal conductivity depends on the degree of compression during installation
Sheaths
Our sheaths are available in diameters of 15 to 60mm. They are sold in 25m rolls but we also offer customised cuts.
Flat blankets
Biosoluble fibre blankets are obtained from long fibres of alkaline earth silicate. Their high-temperature insulation performance is remarkable. With high thermal stability, they retain a flexible fibrous structure up to a temperature of 1200°C.
They contain no binders or lubricants and emit no smoke or odour when heated. Biosoluble fibre blankets are flexible and easy to cut or install. They are available laminated with an aluminium film to improve the thermal properties of the sheets.
Paper
Made from alkaline earth silicate wool, 300 paper has an extremely uniform structure. Resistant to continuous temperatures up to 1260°C, this product has low thermal conductivity and high temperature stability as well as being light, smooth, flexible and easy to handle. These exceptional properties come from the careful selection of specific organic binders combined with advanced manufacturing processes.
Our papers are available in thicknesses from 1 to 6mm and a width of 610mm. Sold in whole rolls, we also offer customised cuts. Other dimensions are available on request.
Fabric
Biosoluble fibre fabrics are available in 2mm and 3mm thicknesses. During production, they are heat-treated to limit flying fibres and dust.