99.7% sintered alumina crucible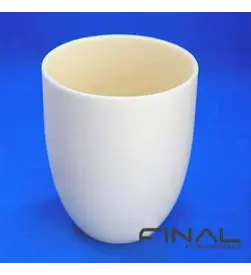 Sintered alumina enables use up to 1700°C. This product is ideal for very high temperature applications.
It is resistant to chemical attacks from most acids and alkaline solutions as well as hydrogen and other reducing gases, with the exception of :
High concentration hydrofluoric acid
Phosphoric acid at boiling point
Potassium hydroxide solution at boiling point
Sodium hydroxide solution
Alkali salt melt
Composition
Al2O3 Alumina 99.7% with traces of MgO Magnesia and SiO2 Silica.
Maximum usage temperature: 1700°C
Good resistance to thermal shock
High electrical resistivity
Good mechanical resistance
Available products
Cylindrical crucibles
Conical crucibles
Tubular crucibles
Porducts on requets
Incineration tanks
Dishes