Crucibles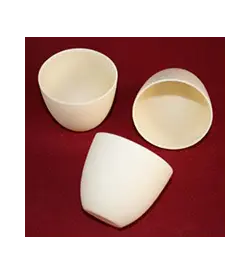 Final Advanced Materials offer a range of crucibles suitable for calcinating and melting various alloys.
The main quality of a crucible is its ability to withstand temperatures above the melting temperatures of the alloys deposited by metallurgists without altering or polluting the molten metal. In some cases, when a crucible is brought to these very high temperatures, it must be strong enough to withstand being moved for the casting of parts (bronze foundry for example).
Our team is available to help you choose the crucible and the material that best meet your requirements.
Materials available
Please do not hesitate to contact us and send us your specifications so that we can help determine which product will best meet your requirements.
99.7% sintered alumina
Sintered alumina enables use up to 1700°C. This product is ideal for very high temperature applications.
It is resistant to chemical attacks from most acids and alkaline solutions as well as hydrogen and other reducing gases, with the exception of :
High concentration hydrofluoric acid
Phosphoric acid at boiling point
Potassium hydroxide solution at boiling point
Sodium hydroxide solution
Alkali salt melt
Vitreous carbon
Vitreous carbon is resistant to very high temperatures up to 3000°C in inert gas. Unlike many high temperature products, vitreous carbon increases in strength, peaking at 2400°C. It is twice as resistant at 2400°C than at room temperature. There is no weakening of the product at high temperatures and resistance to thermal shock is very high. Temperature increases followed by repeated cooling pose no problem.
Magnesium oxide MgO
Magnesium Oxide MgO crucibles have a fine-grained structure with low open porosity. The density is 3.45 g/cm3 with less than 1% open porosity.
This material contains 2% Yttrium Oxide (Y2O3) to facilitate the sintering of Magnesium. Yttrium Oxide is completely inert and behaves similarly to MgO in all applications.
Magnesia crucibles have a mechanical strength and thermal shock resistance lower than those of Alumina crucibles. They require heating and cooling to be as homogeneous as possible.
They resist up to around 2000˚C.
Porous zirconia
Partly (magnesia) stabilised zirconium oxide obtained by isostatic pressing, ideal for use up to 1800˚C.
Advantages
Can be used up to 1800°C
Very good resistance to thermal shock
Erosion resistant
Very low thermal expansion
Resistant to wetness from molten metals
Specific developments : silicone carbide
In addition to our standard items, we also offer tailor-made items developed according to your requirements. You can select the material from our range and entrust us with creating your crucibles.
Some of our developments
Silicon carbide crucible ext. diameter 24 mm - int. diameter 20 mm - H 40 mm
Zirconium oxide crucible ext. diameter 6 mm - int. diameter 4 mm - H 10 mm
Crucibles made by isostatic pressing
Final Advanced Materials offers a range of melting crucibles that are made by isostatic pressing. For non-ferrous metals only.
Compatible metals
Brass
Aluminium
Zinc
Precious metals
Dimensions
Crucibles from 30 g to 5 tons
Height of 29 to 1600 mm
Maximum diameter 950 mm
Crucibles and accessories of various shapes and sizes available on request, in all qualities. Just send us your design or specific dimensions.