Copper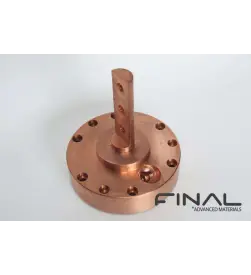 Our machine services: turning, milling and free-cutting of copper
Final Advanced Materials supplies custom-made copper parts according to your plans. Our expertise in turning, milling and free-cutting enables us to meet a wide variety of requirements. Final has a high-performance machines fleet and the expertise to machine copper from prototype to series production.

Description of copper
Copper is an orange-coloured material with the chemical symbol Cu. It has a great variety of applications as it is ductile and malleable and has particularly high electrical and thermal conductive properties. 
Copper is one of the most commonly used materials in the industrial sector, in particular in general mechanics. Its conductive properties and its technical and chemical characteristics make it a preferred material for the creation of a wide variety of parts. However, it has low mechanical resistance and can easily be deformed. It is therefore important to blend it with other materials to increase its resistance. Copper oxidises naturally in moisture and forms verdigris.
Applications for copper
Construction: plumbing, plumbing fixtures, pipes, heating, roofs, lifts, fire systems

Electrical and electronic equipment

Telecommunications field

Industry and equipment sectors

Transport

Renewable energies

Musical instruments
Benefits of copper
High thermal and electrical conductivity

Low melting temperature

A naturally antibacterial material

Satisfactory ductility

Recyclable

Weldable

Average mechanical strength
We also supply a range of stainless steel, aluminium, bronze, steel, inconel® and brass. Final has the machining facilities to ensure a quality that meets your requirements.
Technical data