Brass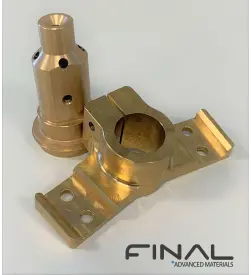 Our machine services: turning, milling and free-cutting of brass
Final Advanced Materials supplies custom-made brass parts according to your plans. Our expertise in turning, milling and free-cutting enables us to meet a wide variety of requirements. Final has a high-performance machines fleet and the expertise to machine brass from prototype to series production.

Description of brass
Brass is a non-magnetic and non-ferrous alloy consisting of copper and zinc. It is appreciated for its good machinability and the fact that it can be polished. Its physical properties depend greatly on its composition. Brass can thus also be alloyed with other materials such as aluminium to improve certain properties, such as corrosion resistance or hardness.
Applications for brass
Thans to its good machinability and the fact that it can be polished, brass is used in various applications.
General mechanics

Mining industry

Measuring and precision instruments

Plumbing fixtures, lock fittings, building hardware

Hydraulic connectors
Benefits of brass
Malleable

Easily machinable

Excellent corrosion resistance

Easy to cast
We also supply a range of steel, stainless steel, aluminium, bronze, copper and inconel®. Final has the machining facilities to ensure a quality that meets your requirements.
Technical data