Steel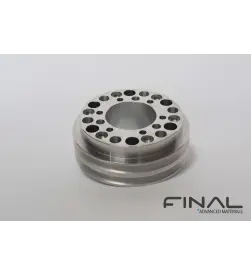 Our machine services: turning, milling and free-cutting of steel
Final Advanced Materials supplies custom-made steel parts according to your plans. Our expertise in turning, milling and free-cutting enables us to meet a wide variety of requirements. Final has a high-performance machines fleet and the expertise to machine steel from prototype to series production.

Description of steel
Steel is a ferrous metal alloy mainly composed of iron with a low carbon content (0.05 to 1.5% by mass) which gives steel the interesting mechanical properties.
There are many different types of steel, each with unique properties. For example, stainless steel is a type of steel that contains chromium and other elements to resist corrosion and rust. There are two large families of steels: alloy steels and non-alloy steels. Non-alloyed steels are composed of iron and carbon only, while alloyed steels contain other chemical elements such as silicon, molybdenum, chromium and others.
Applications for steel
Seel has been used for thousands of years and remains an indispensable material in many aeras of our lives, including construction and the automotive industry.
Construction of bridges and buildings

Motor vehicle sector

Health sector

Energy sector

Food production industry
Steel has the advantage of being resistant to elastic deformation, breakage and impacts. It is also highly valuable for its hardness.
Classification of steels
Steels for general use
Steel for general use is a construction steel which requires no additional treatment. Its mechanical performance is often broadly sufficient for use without severe constraints. It is easy to use: forming, assembly, machining, welding, folding.
The most commonly used steel is steel A37 which is soft and non-alloy. It is suitable for mechanical parts requiring no particular stiffness, such as braces, rings or light axles.
Carbon steels
The main alloy component of these steels is carbon (between 2 and 2.5%). Low carbon content steels are weaker and softer, but can be machined and welded easily, whereas high carbon content steels are more resistant, but substantially more difficult to machine.
The most commonly used carbon steels are C22 - XC18 (with a low carbon content) for its good surface resistance, and C45 - XC48 (higher carbon content), for its good machinability and its mechanical characteristics.
Case hardening steels
Case hardening steels have a carbon content of 0.10 to 0.20%. They are intended for case hardening and quenching, which lead to high stiffness in the core and substantially greater hardness at the surface. They have resilience in the core and hardness externally, giving them high wear resistance. At temperatures higher than 920°C carbon enrichment ("carbonisation" or "case hardening") occurs. Case hardening steels are generally used for mechanical parts for which a high surface hardness with good stiffness in the core is required.
The most commonly used case hardening steels are 16MnCr5 and 16NC6, which have high impact and perforation resistance.
Heat treatment steel
Heat treatment steels are structural steels alloyed with nickel, chromium and molybdenum for quenching and tempering. They have excellent hardenability (self-hardening) even on large-dimension pieces. This type of steel is an excellent choice for many applications in leading industries where severe characteristics are demanded. Indeed, it has high endurance and stiffness limits, high wear resistance and low deformation.
The most commonly used steels are 42CD4T, 35NCD16 and 35CD4.
Nitriding steel
Nitriding steels are alloy tool steels with chromium, manganese and molybdenum for cold working. They have good hardenability and are suitable for all types of nitriding. This type of steel is recommended for the production of plastic dies, die holding blocks for plastic and guide rails for machine tools. Dies and holding blocks manufactured with this steel require more heat treatment. This grade is always ready to use.
The most commonly used nitriding steel is 40CMD8.
In addition, we provide a range of stainless steel, aluminium, bronze, copper, Inconel® and brass. Final has the machining facilities to ensure quality to meet your requirements.
Technical data