Bronze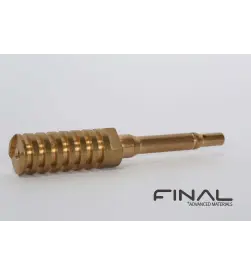 Our machine services: turning, milling and free-cutting of bronze
Final Advanced Materials supplies custom-made bronze parts according to your plans. Our expertise in turning, milling and free-cutting enables us to meet a wide variety of requirements. Final has a high-performance machines fleet and the expertise to machine bronze from prototype to series production.

Description of bronze
Bronze is a metal alloy consisting principally of copper, tin or aluminium, although other metals such as zinc, lead and nickel can also be added. Bronzes are characterised in general by their satisfactory mechanical properties, their wear resistance, their heat conduction and their electrical conductivity. Special attention is required to machine bronze, which requires specific expertise and equipment.
Applications for bronze
Metallurgical industry

Field of art

Manufacture of components for mechanical and electrical industries

Hydraulic constructions

Sea installations

Construction of various installations, machines, vehicles
Benefits of bronze (depending on grade)
Good wear resistance

Good electrical conductivity

Average corrosion resistance



We also supply a range of steel, stainless steel, aluminium, copper, inconel® and brass. Final has the machining facilities to ensure a quality that meets your requirements.
Technical data